The institution
Comau is a worldwide leader in manufacturing flexible, automatic systems and integrating products, processes and services. Headquartered in Turin, Italy, with an international network that spans 17 countries that employ more than 9,000 employees. Comau specializes in body joining & assembly, powertrain machining & assembly, robotics and maintenance, as well as advanced production systems and environmental services for a wide range of industrial sectors.
COMAU will take advantage from its well consolidated knowledge on industrial robotics field contributing with its laboratories and research facilities, where advanced solutions are developed and extensively tested. Moreover, COMAU will provide support and competence on integration of new products and processes adopting its last hardware and software technologies developed.
More information about the facilitator´s mentoring and support opportunities: COMAU_Information
---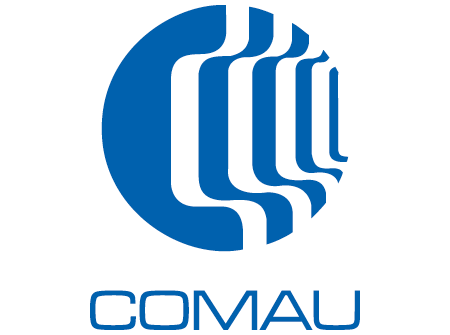 Key personnel
Alfio Minissale (M) received his master degree in 2007 in Electronic engineering (automatic control), from the University of Catania. He joined COMAU group in 2008, working in application and process engineering for Robotics Business Unit. From 2012 he has been involved in many EU FP7 projects gaining an extensive experience in participating and managing projects combining research objectives and efforts. He is currently responsible for research funded projects for Robotics BU. In ESMERA is the project manager for COMAU.
Gian Paolo Gerio (M) received his Bachelor in Computer Science from the University of Turin. He joined the COMAU group, working in the software development for Robotics Business Unit. He managed several projects as technical team leader, coordinating the activities of working groups and external companies, following mainly all the aspect related to the Motion environment of the robot. He is currently in charge of Software Design Department in Robotics BU.
Eliana Giovannitti (F) Received his master degree in Electronic Engineering, specializing in Robotics and Automation, from La Sapienza University of Rome. She had an internship in STMicroelectronics working on the control loops of a small mobile robot. She joined COMAU in 2014 as Control Engineer in Product Development Group and she is actually working on robot models identification and motion control.
Mr. Aldo Bottero (M) obtained the degree in Electronic Engineering in 1989 at Politecnico di Torino. In 2001 he joined R&D COMAU Robotics as control engineer. He has participated to the development of C5G COMAU robot families and developed some special robot control tuning and methodology for machining, debarring, riveting, gluing, sealing, laser cutting applications. He participated to several national and international projects.
Contact
Alfio Minissale
Product Development
Software Design
Comau S.p.A. – Robotics and Automation Products
Via Rivalta 30 – 10095 Grugliasco (To) – Italy
Tel.+39.011.0049469, Mob. +39.335.1635348
e-mail: alfio.minissale@comau.com
Web: www.robotics.comau.com